Free Yourself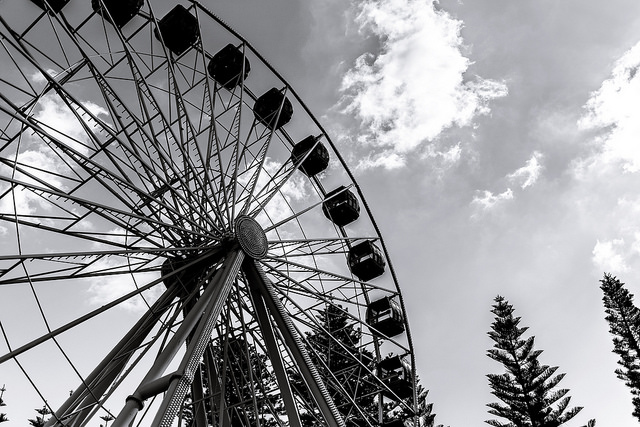 Photo Credit: Daniel Lee
"We must be free not because we claim freedom, but because we practice it." – William Faulkner
What makes a person free? As we approach our country's independence celebration, I often think about what freedom actually means. America was founded based on the desire for individual freedom, and we live in a country that provides enormous liberty, limitless opportunities and advantageous privileges. Yet, as individuals, I observe many people who do not feel free within the lives they have created. Sometimes they feel locked into their circumstances, restricted by their choices, and are scared to even question their lives, much less begin making changes.
But what if you could feel free to start living the life you are really meant to live? Have you ever thought about what it would be like to have complete and utter freedom? Do you know what freedom means to you? I have come to realize that "freedom" carries many different meanings. For some, it is the freedom to be who you are, or the freedom to express yourself fully without holding back and worrying about the consequences. Freedom can also be defined as the ability to travel, to explore the world, to learn about yourself and to connect to others.
Another way to think about having freedom is by making choices within the life you have already created. For example, being able to have a job you love as opposed to the one that brings in the paycheck or being able to do something for yourself if the primary focus has always been on helping others. Or even having the ability to pursue other interests or hobbies, without always feeling like there is not enough time, money or opportunity to engage in what you want, much less enjoy it.
I believe freedom is about knowing that you have choices, no matter what the circumstances. No one can take away your thoughts, feelings, beliefs, attitudes, dreams or perspectives. You have the autonomy to believe what you do, think what you want and feel what you feel without any restrictions. It is your free will and human right.
I hear people say, "I don't have a choice." It might be true there are certain responsibilities, commitments or situations that might need to be honored, or something has been handed to you that you might not have preferred. Yet, I believe you can dream of new possibilities and start making decisions to see things in a different light or do something in a new and different way.
Ways to Find Your Freedom:
What holds you back? What are the thoughts, the stories you make up, the boxes you put yourself into that hold you back and keep you from being authentic? What do you want more of in your life?
"The Let Go's"
Freedom to Let Go
Freedom from Stress, Worry and Anxiety
Freedom from "Shoulds"
Freedom from Low Self-Esteem or Self-Deprecation
Freedom form Negativity
Freedom from Being Defensive
Freedom to Make Mistakes and Start Over
Freedom from Fear
Freedom from Doubt
Freedom from Shame & Guilt
Freedom to Cut Loose
Freedom from Past Disappointments
Freedom from Unrealized Dreams or Goals
Freedom from Conformity
Freedom from Disconnecting, Disassociating and Unavailability
"The Move Towards"
Freedom of Choice
Freedom to be Who You Are
Freedom to Love
Freedom of Expression
Freedom of Self-Confidence
Freedom to Explore
Financial Freedom
Freedom of Learning and Knowledge
Freedom of Our Own Thoughts, Feelings and Emotions
Freedom to Take Action
Freedom of Acceptance and Peace
Freedom of Human Rights
Freedom to Speak Up
Freedom of Connection
Spiritual Freedom
It is within your power to become as free and happy as you make up your mind to be. You might not be able to make immediate changes in your life at this moment, but you can start dreaming and working towards something new. Better yet, you can free yourself by changing the viewpoint or perspective you currently hold. After all, you are as happy as you decide to be–and you can start that now.
A Coaching Exercise to Free Yourself:
1. Using the list above, define what freedom means to you.
2. What do you need to free yourself from, and in what areas of life do you need relief
3. How many ways do you know to free yourself? In other words, what will liberate you
4. Once you have discovered of what you need to let go, you will have the freedom to go toward something new. What would you choose in any given moment?
Ready to start living an amazingly authentic life?
Join my e-mail list for with tips on living your truest, most passionate you.
Comments: