Fun, Frolic and Play… Everyday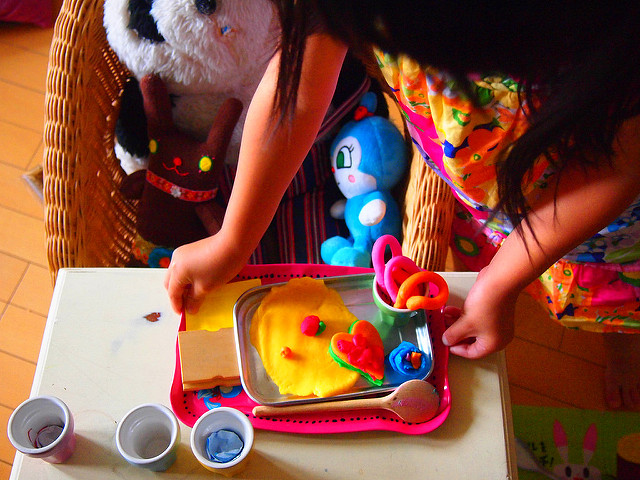 Photo Credit: ueha nochi
 "The world is your playground. Why aren't you playing?" – Ellie Katz
Summer is almost here! A time that is relaxed, carefree, lazy and unstructured. It is the perfect time to frolic and play and have fun every single day. Frolic is defined as playful behavior or action, merriment, gaiety, fun… so how much fun are you really having? Are you taking time to build play into your life, every day, all year?
People often wait until the weekend or a vacation but you can start now, especially since summertime gives us a jump-start. School is out. The pool is open. Trips are taken. Movies are watched. Books are read. Lemonade stands pop up. Gardens are tended. Parks are filled with people playing sports, taking walks, riding bikes or listening to concerts. Families reunite. It is a time for celebrating, being in the moment and taking breaks from the routine of our lives.
People from across the nation come to me for various reasons in my Life Coaching practice. Some are seeking answers regarding their careers, making more money, setting new goals, or finding the right person. And even though these desired changes are important, I often learn that the key missing element in their lives is not having enough frolic, fun and play… not the better job or different relationship.
The truth is when you focus on play and enjoyment, you can create more overall happiness in your life. My clients tell me their reasons for not delving into their true passions are because: "I don't have enough time;" "I don't have enough money;" "I don't have anyone to do that with;" or "I will do that someday." I believe these are just excuses and stories. So I say to them, "If not this, what?" and "If not now, when?" It's time you have more of what you want by creating more playful opportunities each and every day.
Here are some ideas for infusing more fun in your life:
Love Being Alive Savor your everyday experiences… I wake up every morning and start the day off by saying "I am so happy and grateful that…" Fill in your own blanks.
Know Your Passions I love Salsa Dancing (I recently started dancing again), flower arranging, walking in the park, snow skiing, dinner and drinks with friends, and chocolate chip cookie dough. Create your own list. (And if you need suggestions, e-mail me for a sample Passion Playlist.
Laugh or Smile 25 times per day It can be infectious to others!
Choose your Playmates Who can I get to play with me today? Maybe it is someone old, new or just you!
Have "Fun Money" Hide money in your wallet. My mother used to give me a $100 bill for my birthday on occasion and say, "Keep this with you in your billfold for something special and spontaneous."
Schedule a "Pajama Day" Take a day off, for real! Stay home in your PJs for 24 hours! You deserve a break from being "on-the-go." I do this at least once a month, and my children love it!
 Be Spontaneous and Open to new People, Places and Things Try a new restaurant. Take a class, just for fun. Make a new friend. Travel somewhere new every year. My best friend enjoys playing bocce ball and singing karaoke.
Engage in Nurturing Activities What feeds your body and soul? Spend time in nature, alone and with those you love. Personally, I enjoy massages!
There is no time to waste and YOU are in charge of creating your own playtime. Fun is a conscious choice. It is about giving yourself permission with both your thoughts and your actions to be happy and to enjoy life in the process of it unfolding. Frolicking and fun are different for everyone, so determine what you want. Decide to be happy every day, and then do the juicy, simple or perhaps bold things that will bring you exuberance, passion and pleasure.
Coaching Questions to Inspire More Frolic, Fun and Play:
1. What activities have heart and soul meaning for you?
2. What excuses do you use, or stories you create, that keep you from doing the things you really want to do?
3. What areas of your life need more succulence and joy? Consider your friendships, love life, children, nature, adventure life, your body, family and spirituality.
4. How can you pamper yourself today?
Ready to start living an amazingly authentic life?
Join my e-mail list for with tips on living your truest, most passionate you.
Comments: