Harness the Power of Adventure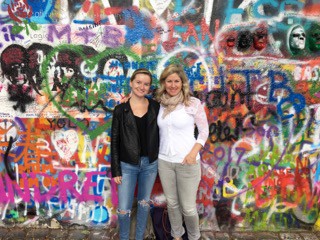 Photo credit: Tess Thompson
"I wandered everywhere, through cities and countries wide. And everywhere I went, the world was on my side." -Roman Payne
I recently returned from a trip to the Czech Republic with my daughter. She studied there for two months, and at the end of her program, I joined her for two weeks of exploring Prague. I was there long enough to gain an in-depth understanding of the history and culture of the city, as well as have a new experience with my daughter.
Her experience and growth reminds me of when I was her age, working in Washington D.C. for the summer, living in a strange city— and loving every minute of it. Our time reminded me of the importance of adventure and curiosity in one's daily life, as well as a healthy dose of the unfamiliar. In this blog post, you can read about how to harness the power of adventure and live a more expansive life, every day.
While I was fortunate enough to spend several days in Europe, most people do not have the time or resources to travel abroad. Travel can teach you things you did not know you did not know, and can show you sights and people of immeasurable beauty. Even if you are unable to travel, you have the power to pursue the unknown, and to learn— which, really, is, what travel is all about.
Here are some tips on how to have your best adventure, no matter where you are:
Immerse
I was lucky to have my daughter as a tour guide for our trip; not only was she familiar with the essential parts of the city, such as the public transportation and currency, but she had some conversational skills in the Czech language. She was often readily able to translate or order things, and our experience was richer because of it. While many people in Prague speak English, especially the younger people, I learned essentials such as "Dobry den!" (Good day!), "Prosím (Please), and "Dekuji" (Thank you). Locals that we interacted with sincerely appreciated our attempts to both integrate seamlessly and show respect for their world, as most travelers to the city do not. A few minutes of studying the language and customs of wherever you are can go a long way towards creating a positive experience both for you and the people you meet on your journey.
Additionally, it's important to try even when you are unsure of yourself. My daughter told me of a conversation she had in Czech during her first weeks in Prague. When ordering a drink, she requested a "small, large, light, dark beer", and when asked which one she wanted, she brightly exclaimed, "yes!". While everyone had a good laugh at her gaff, she laughed too, and learned from it. Now, she has no trouble ordering whichever beer she prefers. Much like struggling through Czech, you must learn the new language of any situation you are in- whether it be the standard work practices at a new company, or the language a partner uses in a new relationship. Always be a traveler rather than a tourist.
Seek Beauty
The combination of my daughter's art history studies and my passion for visual art resulted in our visiting a different museum, palace, or church every day of our trip. We explored the centuries-old Prague Castle complex, an exhibition of Gerard Richter's modernist work, a massive Ai Weiwei installation about the refugee crisis, as well as soaring facades of colorful buildings on every corner, massive gardens and parks, and many other centers of beauty.
Beauty has many purposes- to display power, encourage social change, inspire spiritual devotion, or simply for the pleasure the act of creation brings- and it can open our eyes to new possibilities of creativity in our own lives. The point is, we made a concerted effort to actively surround ourselves with beauty on a daily basis. Most places were inexpensive if not free, and not difficult to get to; all it took was a little research and time. While there aren't many castles in Louisville, there is beauty everywhere. I look forward to exploring many museums, galleries, and special exhibitions now that I am home.
Indulge
One of our first actives in Prague was a Taste of Prague "foodie" tour. We spent four hours tasting fresh meats, traditional open-faced sandwiches, roast duck, ash potatoes, mushroom risotto, various desserts, as well as plum brandy, local beers, and Czech wine and coffee. We learned about an essential part of Prague culture, especially after the fall of soviet rule: life is too short to eat bad food, especially when good gastronomy is all around. The experience, along with other wonderful restaurants and bars we explored, reminded me of the importance of indulgence. Every day, even when you're not traveling, you can eat something delicious, healthy, and new for your own pleasure, whether that means trying a new recipe, checking out the local farmer's market, or experiencing a new restaurant with a friend.
Choose Wisely
As in all things in life, choosing the people you surround yourself with requires deep thought. Both people must operate on a similar rhythm, enjoy the same activities, as well as challenge each other to try new experiences. Choosing the right travel partner can enhance or hinder a trip abroad; luckily, I was traveling with my likeminded daughter. We both loved the opera, underground wine bars, and sprawling flower gardens, and she pushed me to try exotic local meets and the famous Czech beers, as well as practice my Czech at every opportunity. When approaching any situation, remember to consider the strengths of the person next to you, and how they can help you grow.
Return Home
Like Odysseus, each person's journey is ultimately a journey home. I returned to my "Ithaca", and took the time to reflect on the lessons and inspirations Prague, and my daughter, gave me. Travel allows us to use the newness of our experiences to improve old ones, and the skills gained through the pursuit of the unknown, and the tenacity to be surrounded by strangeness, are invaluable. Additionally, adventure is not a rare occurrence, but can be pursued every day if you only seek it.
Ready to start living an amazingly authentic life?
Join my e-mail list for with tips on living your truest, most passionate you.
Comments: