Ignite Your Inner Passion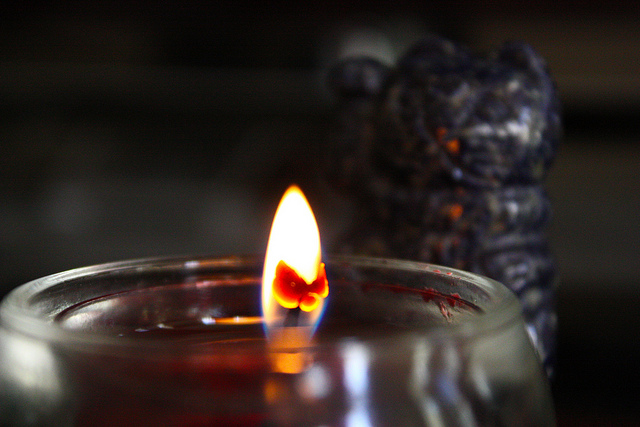 Photo credit: Nina
"What is passion? Passion is surely the becoming of a person." – John Boorman
Do you feel alive and present in your life? Are you doing the things you love in your work, your home, your community and your relationships? Are you raising your heart rate on a daily basis, whether you are exercising or making love? Do you have a passion-filled life?
Sometimes when I speak to audiences about passion, people first think of sex or the things they will do some day when they have more time or money. Passion is secondary for many people, and so they settle for observing it in books, movies and the lives of others, rather than embracing their own wants, needs and desires. The truth is… passion is a powerful feeling, a strong longing for something or someone, and I believe it needs to be in as many parts of your life as possible.
Passion is the beginning of a dream or an idea. It is the fire burning inside you when you feel completely aligned with your thoughts, feelings, desires and values. Pursuing fervor makes you vulnerable, and it encourages you to have ecstatic experiences to give you the confidence and knowingness to start a new path and get what you want. English author Rebecca West said, "It is the soul's duty to be loyal to its own desires. It must abandon itself to its master passion."
Passion can be described as a spontaneous act of abandoning all reason, and that is exactly what you need to do. Get out of your head, listen to the longing in your heart and intentionally move forward even when it may appear to be irrational, unreasonable and downright crazy.
Excavating your deepest passions is important; you must find ways to outwardly and concretely unleash the suppressed desires that align with who you are and what impact you want to have. The risk of not expressing your essence is the soul's diminishment, a slow death in your relationships from the lack of love and isolation; a deficiency in enthusiasm leading to the waste of your unique talents, the possibility of creating emotional and financial poverty, living with faded dreams and unfilled hopes, and a separation from your Spirit to yourself and God or your Higher Power.
Passion is everywhere, in everything and reflected in everyone. Open your eyes to the passion surrounding you, let it envelope your existence and then tap into your inner knowing of what turns you on. All great ideas start with dedicated excitement, and you must practice fearless fierceness for a passion-filled life.
Ways to Turn On Your Passion:
Be fully present to what you are doing and completely engage with those around you.

Get out of your head, pay attention to your heart's desires and trust your gut feelings.

Do things that make you feel good.

Let your inner beauty be reflected in your outward appearance in your clothes, jewels, hair and make-up.

Only buy things that you LOVE and have the experiences you WANT.

Achieve your personal best body for YOU.

Tap into the five senses of smell, taste, sight, hearing and feeling to create your own sensuality.

Look for your partner's soul through his/her eyes. Let him/her take your breath away and feel your heart race.

Make love… A LOT.

Spend time with people you want to be with, not people you have to – and really get to know them.

Add romance, magic and sparkle into everything.

Liberate your physical spaces by cleaning out clutter, bringing in beautiful items and adding colors that inspire whatever emotion you want to feel.

Go outside and look at the stars.

Be fierce about your creative pursuits.

Take time for cultural and art experiences like concerts, art exhibits, lectures, reading and traveling so that you can be inspired.

Dig in a garden.

Play with your children.

Be spontaneous by following your urges.

Engage in rituals for yourself – prayer, meditation, church, journaling, quiet time, lighting candles and listening to music.

Eat dark chocolate and drink fine champagne, or anything else in which you take delight.

Focus on fun, laugh a lot and don't take things too seriously.

Savor the climatic moments of your life.

Don't waste another moment… get started NOW.
When you fill your life with divinely inspired acts, cause no harm and are actively engaged, then your life will transcend and fall into place. Your spiritual, mental, emotional, physical and creative pursuits will attract the perfect partner, dream job, spiritual connection, healthy body, abundant bank account, completed novel, true friendships and beautiful home. By playing with possibilities, dreaming about new ventures, meeting zealous people, making a difference for others and seeing the world from new perspectives, you bring passion not only to yourself but also to those around you. Passion is contagious and available everywhere, in everything and for everyone at any given moment. Ignite your inner passion today.
A Coaching Exercise to Discover, Ignite and Expand Your Personal Passion:
1.  By answering the following questions, create a list of the things you are passionate about:
What activities energize or intoxicate you, get your heart beating faster, take your breath away and make you come alive?
What makes you HOT and bothered? It might give you some clues as to what you truly care about.
If making love is bringing love into the world, what else can you do to bring more love into the world?
2.  Now, give life to your passionate pursuits by sharing this list with your best friend, your partner or coach. Ask him/her to note when you smile, your energy is higher, your voice picks up and which items make you the happiest.
3.  Choose the activities that you were most excited about when you shared your list, prioritize these first and start at least one new passion-filled pursuit today.
Ready to start living an amazingly authentic life?
Join my e-mail list for with tips on living your truest, most passionate you.
Comments: