Launch Yourself: Love What You Do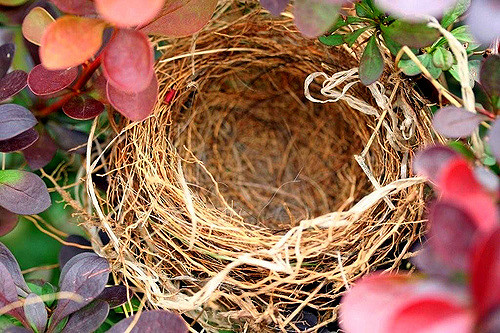 Photo credit: Laura Hartog
"Don't die with your music still in you."  – Wayne Dyer
Becoming an empty nester is a time when a parent's child or children are flying the coop and leaving home, maybe for the first time beyond summer camps, school trips, family visits or extended vacations. These fantastic creatures are seeking their independence and moving on to higher learning, jobs, marriages or other living arrangements, and it can be both exciting and scary. I think about the many men and women who have done their duty and put in their time as parents and caregivers, and the next possibilities for not only their children, but also their own next life cycle.
I can personally share that experiencing this rite of passage is conflicted. It can be a time of ecstatic joy and reclaimed freedom, as well as sadness, grief and loss. Sending off anything or anyone, much less our children can be bittersweet. There is an excitement of seeing children come into their own and their hard work coming to fruition by hopefully witnessing them being accepted into their college of choice or attaining their first great job.
Yet for many parents, fear sets in, wondering if the values, self-confidence, grounding, self-discipline, boundaries, empathy and inspiration for their youngster's path will remain intact during the next life phase. While a certain amount of letting go, mourning, grieving, cleaning out and trust needs to be present, there can be a graceful transition into enormous opportunities to continue modeling what a great life can look like, especially by relaunching yourself.
If this applies to you, or someone close to you, you can give yourself permission to redefine life as you have known it and explore not only "what's next?" but also "what could the best possible future look like?" If your main focus has been raising your children, and that job is changing or evolving, then it is essential you deal with the emotional shifts that are occurring and be proactive during this transition time to find something new that is meaningful to you. You need to create a new norm and, ideally, have something to actively look forward to each and everyday that will engage your values, desires, creativity, interests, talents and passions. To begin, look inside yourself and ask for what your heart and soul long for.
A fresh start for anyone, not just empty nesters, could include embarking on a new career path (or re-evaluating your current job) by working in an office for camaraderie and professional meaning; starting your own business that can provide independent abundance and productive usefulness; re-igniting love by reconnecting to your spouse, yourself, old friends or a new partner; volunteering your time and resources to fight for a cause that is important to you; finding a spiritual journey that awakens, revisits or brings higher meaning into your life; going to school for specialized learning; or simply traveling the world for new experiences and adventures.
The point is to look soulfully inward, discover what you love and do that every single day. Carl Jung said, "Your vision will become clear only when you look into your heart. Who looks outside dreams, who looks inside awakens." Create your next life vision by rousing what you want to do next. Just make sure that you authentically love it and that you actually do something about it. Here are some guidelines to stir the soul.
Loving What You Do Requires…
Connection to your own uniqueness
Freedom of expression
Playful passion
Anticipation and excitement
Quiet confidence
Intellectual stimulation and continual learning
Enough challenge to hold your attention
A higher purpose and deeper meaning
Responsible power
Creative opportunities and outlets
Beautiful, inspiring and comforting surroundings
Supportive advocates and creative collaborators
A spacious vision with an intentional game plan
A deep desire for something better
Rumi said, "Everyone has been made for some particular work and the desire for that work has been put in his or her heart." Look into your heart and find a deep purpose that includes richness, fullness, passion and wisdom. Find something extraordinary and then launch the next best version of you.
12 Coaching Questions to Assist Your Next Life Launch
1. What is it to have a full, rich life?
2. What is just one more possibility?
3. If you got it, what would you have?
4. How will you know you have reached it?
5. What kind of game plan do you need to create? With whom?
6. What resources are available to you?
7. What keeps, or will keep, you going?
8. What thrills you?
9. What does your heart say?
10. What did you put on pause that you want to hit the restart button?
11. What is it to be generous with yourself?
12. What could the best possible future look like?
Take the answers to the above questions and look for the emerging themes. Give yourself permission to claim it as yours and then take inspired action steps each and every day to move towards your newly created vision.
Ready to start living an amazingly authentic life?
Join my e-mail list for with tips on living your truest, most passionate you.
Comments: