Let Your Inner Light Shine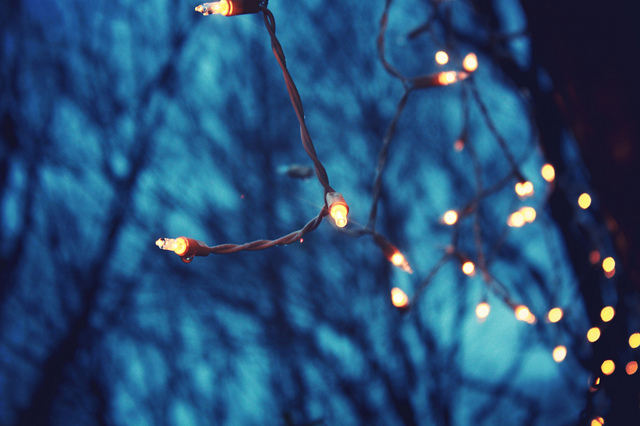 Photo credit: martinak15
"Let nothing dim the light that shines from within." – Maya Angelou
As we enter the Holiday season, I think about what is sparkly, bright and shiny. I love to  embrace all things glittery this time of year… flickering lights, dazzling jewels, festive clothing, shimmering stars, champagne bubbles, candlelight yoga, and even the twinkle of an eye. But most importantly, all of this shininess reminds me there is an even bigger year opportunity to let our own inner light shine.
When a person sparkles, they become alive and fully illuminated to a greater state of being. I love seeing the look on one's face when he or she is filled with love, joy and happiness. The way a person carries themselves, the tone of their voice and the look in their eyes are great indicators of how fulfilled a person truly is. I often wonder where that glimmer comes from. What creates radiance, and how can one use their brilliance to be genuine with themselves and the world?
When I am coaching my clients, I search for ways to assist them in excavating their beauty and authenticity and how to integrate that into their lives. After clarifying their values, goals, dreams and desires, I often use a diamond as a metaphor in life to help them see that they are a rough diamond and can create greater value by honoring the the many different facets of themselves. Just as a diamond cutter finds the perfect shape to honor the stone he holds, my clients must find the many facets of their own magnificence and polish them to capture the perfect light so they can sparkle and shine brightly.
Brilliance is difficult to describe, yet you recognize it when you see it. It is a bright idea, a quiet resolve, a passionate performance, an ingenious insight, a soaring aspiration, a bold choice or a compassionate act. A person's brilliance comes from within, putting courageous self-trust into action. When you learn to embrace the many aspects of yourself, you can claim who you are and then positively impact the world around you.
Polish the Four C's of Life…
Diamonds are a girl's best friend, especially when you learn that YOU could be the biggest, best and most brilliant diamond you own. Start with the "Four C's" to increase your own value and self-worth.
CUT

Remove the clutter in your life. Clean up the redundancy and trite ways of seeing how dreary life can be. Remove the opaqueness and negativity, so that you start polishing up your life.

CLARITY Be clear about who you are, your values and your life's vision. Your resources, whether they are time, talent or money, can be put to greater use once you have clear intentions as to what you want your life to be about.
COLOR Take action to live fully, creating depth and meaning in all you do. It is the passionate experiences, spiritual connection and playful encounters that put the color in your life.
CARAT Increase your carat weight through the fulfillment of your dreams, giving you limitless possibilities. Live with gratitude and learn how to be of service to yourself and to others. The more multi-dimensional facets you claim, the more weight and value you will have. 
Spiritual leader and author Marianne Williamson has been inspiring people all over the world with a quote from her book A Return to Love. "Our deepest fear is not that we are inadequate. Our deepest fear is that we are powerful beyond measure. It is our light, not our darkness, that most frightens us. We ask ourselves, who am I to be brilliant, gorgeous, talented and fabulous? Actually, who are you not to be? You are a child of God. Your playing small does not serve the world. There is nothing enlightened about shrinking so that other people won't feel insecure around you. We are all meant to shine, as children do. We were born to make manifest the glory of God that is within us. It's not just in some of us; it's in everyone. And as we let our own light shine, we unconsciously give other people permission to do the same. As we are liberated from our own fear, our presence automatically liberates others."
I challenge you to think about the unique qualities you have and how they stand out in the world. Give yourself permission to shine.
Coaching Questions to Help Your Light Shine:
1. List your gifts and talents. Think about how these show up in the many areas of your life and how you want to share them with others.
2. What is ONE thing you always think of that makes you smile?
3. What facets of your life do you need to polish or clean up?
4. Do you live from the inside out, or outside in?
5. Describe how you are "brilliant, gorgeous, talented and fabulous."
Ready to start living an amazingly authentic life?
Join my e-mail list for with tips on living your truest, most passionate you.
Comments: