Life Mastery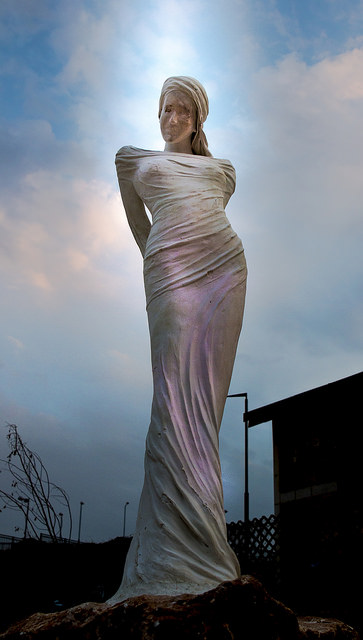 Photo credit: Betty Nudler
What does it mean to master your life? Does wisdom come from age? Experiences? Degrees and credentials? Being a student of lessons learned? I am well into mid-life and for some people at this same juncture, the 50's brings on a melancholy mood after taking inventory of a life half complete. Yet for me, I remain excited about my golden years of stepping into a truer, stronger, fearless and wiser me. I have always loved the earlier part of  decades because I see it as an opportunity to create not only a vision of what I would like to accomplish in the next 10 years but also determine how I want to step into my own deeper, richer evolvement.
Looking back, I realize every decade has given me insights into myself, seeing how I have been both blessed and challenged. In my 20s, after college graduation I felt free and confident, maybe even conceited, to choose exciting experiences such travel, careers and marriage. I was bold and brave, and also naïve. I also suffered great loss.
In my 30's the successes of having children, a home, important community work and wonderful friends prevailed, but sadly so did failures like my marriage and financial loss… I was humbled and I lost my faith and myself. I created what I thought I was supposed to do, but did not keep me in the mix at times.
In my 40's I re-awakened, remembering who I was, learning from all that life had brought me and became happy again. I re-built my self-esteem, created a new career and prioritized relationships. Every decade brought the good, the bad and the ugly, yet I grew wiser as I got older and I learned to love the journey, understanding that every challenge became an opportunity to transform myself.
Now almost three years into my 50's, I am positively embracing all the wisdom I hope I have gained; and letting go of the things that I have no control over or no longer serve me. The Serenity Prayer by American Theologian Reinhold Niebuhr sums it up nicely— "God, grant me the serenity to accept the things I cannot change, the courage to change the things I can and the wisdom to know the difference."
For me, my next 10 years will be about life mastery, relaxing more into myself and using wisdom to stay on my journey and act accordingly in the world. I hope every gesture, thought, desire and action will be a reflection of my true essence. I want to inspire others with kindness, compassion, passion, forgiveness, vulnerability, creativity and love. I believe deeply in the power of one's personal path and the inner wisdom that can prevail when we take inventory and stop betraying ourselves, get out of fear, embrace our dreams, love richly and quit playing small in the world.
My deep desire for others is that they will become ecstatically happy with themselves so they can build the kind of lives they want to live. Too often, people overlook their goodness inside and out, and instead stay stuck, opt for the negative perspectives and meanwhile decades pass by. The bottom-line is to learn your lessons and be true to you. Don't compromise who you are, what you want, and how you use your unique gifts. Because if you do, it might catch up to you someday, and the clean up can be painfully messy. I recently came across an unattributed quote on wisdom that sums this up…"Knowing others is intelligence; knowing yourself is true wisdom. Mastering others is strength; mastering yourself is true power." I hope you will be powerful, wonderful and wise.
Jennifer's Life Manifesto
Below is a sampling of the slogans I have accumulated over the past 17 years taken from many life lessons, teachings and inspirations. Put into an "Excavive Manifesto"— these guidelines are intentions, opinions, objectives and motivations that have helped me to claim my beliefs, remind me to live fully and encourage others to do the same. I hope my personal platform will inspire you to create and claim your own wise wonderings.
Uncover your authentic self
Embrace your "Succulent Wild Woman"
Find JOY in everyone and everything
CREATE
Embrace your Brilliance
What's next?
Speak your TRUTH… it is always good for everyone
Live your values
Discover what makes you come ALIVE and do that as much as possible
Trust Yourself
Create your Army of Advocates
Date Yourself
What does SUCCESS mean to you?
Practice Gratitude
Pursue Passion, Play & Pleasure
You are always in choice. You have the right to change your mind.
Create a space of your own
Go to the beach, often.
Ask for what you want
Love what you do
Be scared… and try it anyway
BEAUTY
Know that this too shall pass
DO something, anything. Just get going.
Make conscious choices
Say YES by saying NO
Keep it simple
Pick 3
There is NO time to waste
Clear out the clutter in your life so that new can come in
Be vulnerable
Make no assumptions
Have do-over's
Take off the mask and live authentically
Practice forgiveness
Integrate wisdom with intuition
Have fearless fierceness
Cause no harm
Be of service
Exude vitality
All challenges are an opportunity to learn, grow, transform, blossom
Celebrate and be celebrate
Create Your Own Personal Manifesto:
Using the above list as a sample, create your own personal reminders of your lessons learned, current beliefs, your own inspirations, and new thoughts for living. Here are some questions to guide you:
What do you think? Believe? Want?
What is important to you now?
What inspires you?
What values do you need to honor?
What lessons have you learned that you wish you had known earlier in life?
What reminders do you need?
What do you want to embrace going forward?
What dreams support your life vision?
I would love to hear your own wise words, your learnings or your intentions… What do you know now that you wish you had known then—and how are you using your inner wisdom to create your next life vision? Drop me an e-mail at [email protected] and if you include your address, I will mail you my beautiful Excavive Manifesto postcard to inspire you.
Ready to start living an amazingly authentic life?
Join my e-mail list for with tips on living your truest, most passionate you.
Comments: