Make Your Words Stick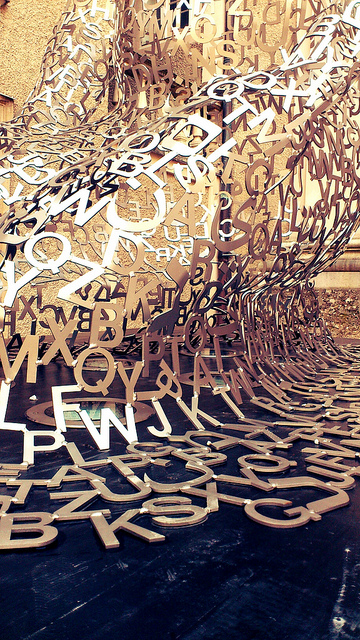 Photo credit: Kitti.Jacobovits
"Use every letter you write, every conversation you have, every meeting you attend, to express your fundamental beliefs and dreams. Affirm to others the vision of the world you want. You are a free, immensely powerful source of life and goodness. Affirm it. Spread it. Radiate it. Think day and night about it and you will see a miracle happen: the greatness of your own life."– Robert Muller
Do you say what you mean and ask for what you want? Do you use your words to build bridges and create connection with others? Or, do you find that it is a struggle to create a bond though your communication skills, sometimes coming away from an encounter feeling frustrated or disappointed?
Words hold great power in our relationships and encounters, and when used wisely, they can create strong bonds. By definition, a bond is something that binds, fastens, confines or holds together, and as human beings, there is an innate desire to seek commonalities that bring us together. We do this on many levels, from when we first meet someone and play the "who do we know in common game" to the soft whispers of slowly revealing ourselves to another person we desire getting closer. Do you have the glue that builds long-lasting relationships? Do you bond deeply to others? Are you building intimacy by sharing your hopes, dreams, vulnerabilities and fears?
To create a solid connection with someone else, it is important to have shared experiences and a strong bonding agent through effective communication skills. Whether you have a parent/child, romantic relationship, brother/sister, family, friend, boss/employee and/or any other type of partnership… it is important to understand that one of the keys to creating unbreakable bonds is through the ability to say what you want, when you want and be heard on the other side without being reactive, withholding ourselves, or fearing judgment.
The art of learning to convey information, thoughts, feelings, desires and opinions while at the same time creating the intended impact is a skill that can be developed and nurtured. Our words, spoken or written, are powerful, and can build up or tear down. Their impact cannot be taken lightly. The right words can create trust, loyalty, commitment, enthusiasm, love, healing and a deeper bond. Think about how you feel when someone genuinely says to you "thank you,"  "please,"  "I appreciate you,"  "great job,"  "I love you" or  "I'm sorry."  But when the wrong words are imparted, such as "you should have…" or "I am disappointed in you," it can be devastating and a bond can be weakened or broken completely. Here are some suggestions to enhance your communication skills:
Tools to Communicating Effectively:
Exude Confidence:  Build a strong sense of self.  Be your own best advocate. Create credibility with direct eye contact, a strong handshake and verbal connections.
Create Connection: Speak from the heart. Encourage reciprocal communication so both parties have a chance to speak, be heard and honored. Learn about the other person and what's important to them.           
Get Curious: Ask provocative, interesting questions so you can learn as much as possible without it being an interrogation. Don't make assumptions by not asking. Be direct and clear about what you really need, want or must convey.             
Listen Actively: Two ears and one mouth–so listen twice as much as you speak. Stay in the present moment and don't think about your next question or idea if it causes you to not pay attention to what's being said.Ask for feedback and don't take anything personally.
Get Smart: Information is power. Read, be informed and become interesting. Research online, find support groups, obtain other experts and seek wisdom so you will feel confident when communicating.
Take Responsibility: Fully own your words. Practice silence, as well as speaking up. Don't write an e-mail or text when a conversation by phone or in person is better.
Ask for What You Want: Strive for clear, concise communications. Ask for what you want, and remember that not asking is an automatic NO. Your self-worth does not change from rejection– no one can take your self-esteem away except you.
Practice, Practice, Practice: Practice speaking powerfully, directly, and graciously in as many life areas as possible. Use "I" statements and keep trying, keep going, don't give up–EVER. Always do your best and recognize your successes.
I believe learning to use your voice effectively is one of the best ways to build better relationships. The use of authentically communicating what you know, how you feel and what you need is one of the best assets I have discovered both personally and professionally. It is essential to use discernment, speak your truth, follow through with matched actions and show compassion and kindness to others. Lance Secretan was quoted in Motto Magazine by saying, "Authenticity is complete oneness in our thinking, speaking, feeling and doing. It's head, mouth, heart and feet all communicating and living the same message." Excavate your true voice clearly, confidently, respectfully and effectively, as it will assist in forming bonds that can last forever.
Coaching Questions to Excavate Your Voice:
How are you using your voice to say what you want and how you feel? Count the number of times you speak authentically each and every day until it becomes a habit.
Notice every time you use the word "should"… is it truly what you want or a different version of what you think you are supposed to do, say, think or feel?
Make your words count by only speaking powerfully this week. Why not try being Bond, Jane Bond, by saying exactly what you need to but the difference is you mean it?
Ready to start living an amazingly authentic life?
Join my e-mail list for with tips on living your truest, most passionate you.
Comments: