Show Your Affection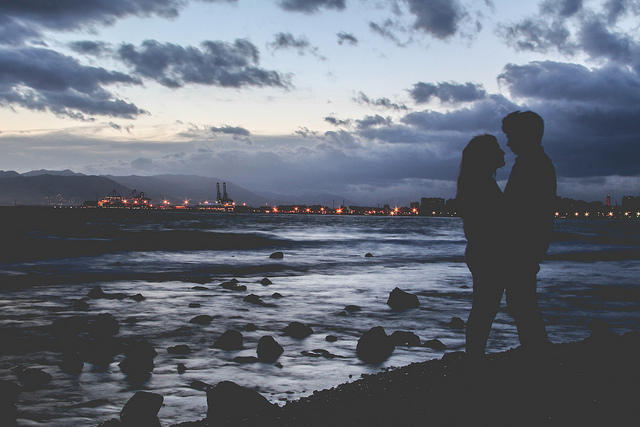 Photo Credit: Leo Hidalgo
"Too often we underestimate the power of a touch, a smile, a kind word, a listening ear, an honest accomplishment, or the smallest act of caring, all of which have the potential to turn a life around." – Leo Buscaglia
I admit it…I am a romantic at heart. I melt watching people hold hands, exchange sweet glances and give pecks to one another on the cheek. I enjoy seeing couples, young and old, honor their love by showing affection, warmth and kindness to each other. I somehow think it's a reflection of their deeper love by their willingness to reveal their fondness towards each other with a sweet sense of confidence, tenderness and devotion.
When is comes to exploring the topic of public display of affection, or rather "PDA", it seems to me that it can often be misinterpreted. On one hand, I believe in expressing love, embracing intimacy and connecting to your partner in a way that honors not only the individuals but also the relationship itself. Yet, PDA has earned a bad reputation too often when some people cross a line, allow their displays to be inappropriate and do not respect boundaries, theirs and others.
Let's consider the importance of affection. For couples, it can be an expression of love and serves as a reminder to each other that they are connected. For others, it can be sweet gesture that reunites, welcomes or greets someone with respect, kindness and caring. Some people meet their friends and family members with a hug or quick kiss. Consider the customs of individuals in other cultures who perhaps give a kiss on one or both cheeks. Even with strangers, a smile is shared and a hand is extended to someone you first meet, thereby showing affection immediately. The right physical touch, whether in an intimate relationship or new introduction, can create a safe connection, a trusted bond, and the good, warm feelings that are so often desired.
So, what keeps you from fully expressing your own feelings and affections towards others? Do you have an open heart not only to your partner but also others in general? Are you comfortable in your own skin and feel confident about the person you are presenting to the world? If not, you must first feel good about yourself in order to express your true feelings and show your affection genuinely and lovingly towards others. Here are some tips for creating a closeness that will allow affection to be present.
Tips for Creating Affection and Intimacy in Your Relationships:
Nourish and love yourself first
Always be who you are
Look good, feel good and be healthy
Have impeccable hygiene
Cherish your mate unconditionally
Love deeply
Be generous with others
Treasure the relationship itself
Disclose your thoughts, dreams, fears, hopes, wants, desires
Say what you feel
Smile all day
Ask for what you need courageously
Continually practice compassion and forgiveness
Align your words and actions
Have an open heart
Learn about each other
Meet strangers with a handshake
Give hugs freely
Communicate consistently
Know your boundaries
Deepen your passion
Be bold
Reveal your inner self
When you feel good about whom you are and share yourself with others, a natural friendliness and liking can be extended in all of your relationships. Learning to show affection in a way that is right for you can not only satisfy your soul but also lead you back to your most authentic self. In this higher purpose, you can open your heart, share your uniqueness and spread your love to others in the world. 
A Coaching Exercise to Show Your Affection:
1. Do you love who you are and how you show up in the world?
2. Are there any personal boundaries you need to set, emotionally or physically?
3. With your romantic partner, what is it to love deeply and keep the chemistry alive?
4. With your family, how could your affections break down any barriers and create stronger bonds? How do you express love towards them?
5. With friends, how do you want to honor them with your affections?
6. With new acquaintances, how could a sign of warmth facilitate a new relationship?
7. Smile, hug, kiss, hand hands, and love as much as possible.
Ready to start living an amazingly authentic life?
Join my e-mail list for with tips on living your truest, most passionate you.
Comments: