The Authentic Wonder Woman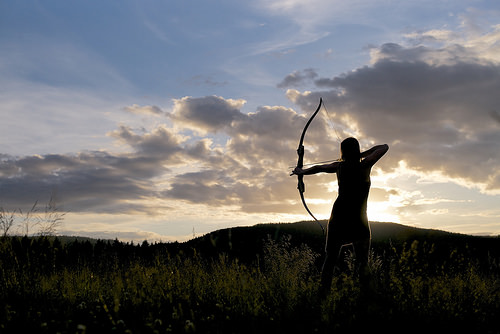 Photo credit: Andreas Øverland
"We define ourselves by the best that is in us, not the worst that has been done to us." – Edward Lewis
In thinking about women of today, I am amazed at how incredible women are. Women have businesses or careers, manage households, raise children, connect with romantic partners, work out and take care of themselves, spend time with friends, volunteer to worthwhile projects and organizations, indulge in hobbies, participate in book and supper clubs, save the world, attend church and Bible studies, create art and music, go to social functions… all while trying to achieve balance, poise and grace.
It is amazing they can play so many different roles and still have time to accomplish so much. Yet, I wonder, are they happy? Can they really do it all and maintain a life of balance and pleasure? And, are they being the truest version of their authentic selves?
On the outside looking in, most women look and act like they have it all together, and many do. Yet, they often believe that something is often missing… more fun, more passion, more authenticity, more meaning, more love, more joy – full-out permission to be genuine.
They are powerful and can be ambitious, yet real women rarely work on acquiring more things, making more money or obtaining more power for the sake of their egos and self-worth. They want their insides to match their outsides and to be fully transparent. The women of today long to maintain their personal power, use it for good in the world and at the same time be completely fulfilled and happy. They are the Authentic Wonder Women (AWW) of modern times.
I created my company, Excavive Coaching & Consulting, more than a decade ago as a way to empower people, especially women, to pursue their passions, increase their self-confidence and build the kind of lives they truly want to live. The key messages I have embraced and promoted in my work have been about evolving and uncovering your authentic self. As a Coach, I am hired mostly by women to help rebalance and reprioritize their lives, re-discover who they are and reclaim their own inner beauty, passion and self-worth. We create a partnership for re-learning of the self, and we engage in a very powerful process that is energizing, inspiring, accountable and forward moving.
To assist people in finding their true selves, we start by defining their values, or the qualities that are most important to them. We excavate their inner depths, and then look at how well they are living their values in each of the basic areas of their lives. It is an opportunity to explore not only what is missing, but also see what's working.
Some of the more common values we unearth are around adventure, freedom, beauty, belonging, creativity, helping or impacting others, connection, integrity, trust, fun, learning, love, passion, peace and harmony, and responsibility. The values are the "checklist" for the AWW, and underlie everything they do.
I always suggest laying a good foundation for your home before picking out wallpaper… this is what knowing your values does for you.
Once a woman knows what is valuable to her, she can begin to make choices about what she does and how she does it, based on her own guiding principles. That is when the change begins to take place and we start to accomplish what has previously been thought of as impossible. The AWW starts to feel more confident and more beautiful, and acts accordingly. She feels more love for herself and others, and it shows.
The AWW of today is the woman who is real in all of her many roles, and makes the most of her life. She can balance the daily life demands while finding pleasure in all she is doing. It is a choice, and she understands that. Ultimately, every AWW develops common traits, as I have observed below.
The Authentic Wonder Woman of today…
Loves Herself First and Knows Who She Is. The AWW knows her essence and what is important to her. She lives her values, reveals her inner self and nourishes and loves herself first. The AWW takes care of herself so she can take care of others. She does not betray herself and strives to always be who she really is.
Knows Her Passion and Purpose. The AWW knows what is essential and why she is doing something, and she pursues it with passion. She knows what makes her feel alive and consciously follows those activities that help her feel connected to herself and others. She dances, sings, plays, travels, dreams, visualizes, grows and creates. The AWW loves being alive, cultivates creativity, infuses life with fun, knows what she is passionate about, follows her urges, takes inspired action every day and is wildly happy.
Connects to Others. The AWW is all about tending to her important relationships. A quick phone call, a hug and kiss, making a date to spend time together, a simple "how are you?" She connects and loves.
Asks for What She Wants. The AWW understands she is responsible for getting what she needs, being courageous and bold in asking for it and using her voice. She expresses herself authentically by communicating clearly, truthfully and positively – exuding confidence, creating connection and actively listening. If she asks for what she desires, she might just get it. Not asking is an automatic no. The AWW says yes when she means yes, no when she means no. And finally, she also knows when not to ask, as sometimes there is power in what she does not say.
Practices Gratitude. The AWW is thankful for all she has and does. She honors her beliefs and those of others, constantly recognizes how blessed she is, savors her current life and sees the good every day, even when there are bumps in the road. The AWW is generous with her heart and she continually practices compassion and forgiveness by having as much empathy for herself as she does with others. She is appreciative, understanding, kind and compassionate; and expresses it often.
Makes Mistakes. The AWW recognizes the growth and learning opportunity in every misstep. She doesn't take herself too seriously, and she laughs A LOT.
Empowers and Helps Others. The AWW inspires others by being who she really is. She reaches out to others and wants more for them than for herself. She shares her experiences and encourages others to do the same.
Rejuvenates Herself. The AWW feeds her soul. She prioritizes her time and gets grounded every day. She knows the importance of exercising, nourishing, sleeping, playing, meditating, praying, journaling, beautifying, spending time in nature, creating, reading and stopping… whatever nurtures her body, mind and spirit.
Creates a LIFE Vision to Go Towards. The AWW creates, and re-creates, a new vision of what she wants, now and going forward. She asks herself, "will these items create a sustainable 'essence' of what I want long-term, i.e., greater intimacy with a partner, a more fulfilling career, creative inspiration for a passionate pursuit or greater compassion for others?" She follows her path for happiness and her choices are irresistible, meaningful or important to her. The AWW brings joy, even if it looks messy or unexplainable to others, and she is fierce for it.
The Authentic Wonder Woman of our time is powerful beyond belief. When all women start to recognize their own magnificence, they will transform others, as well. The key is in mastering their own authenticity by owning their goodness, accepting where they are right now and using all of their best qualities to move forward living an authentic life that is blissfully joyful, abundantly balanced, positively impactful and authentically meaningful.
This is your great life, so make the most of it now.
Coaching Questions to Discover the Authentic Wonder Woman Inside of You:
The following questions below are to get you thinking about how you can tap into your Wonder Woman within. Start a journal or write these answers in a special book that inspires you.
1. When was the last time you experienced true wonder? Describe the peak experiences that have made you the happiest, and look for any common themes.
2. What unique values, strengths or skills do you have that directly support your authenticity? Name at least three.
3. What distractions exist in your life that keep you from being your authentic self? List the things you do instead of being fabulous. (Yes, laundry can be included!)
4. Do you live from the inside out or outside in?
5. What rituals do you engage in, or desire to create, that would give you permission to fully take care of yourself?
6. When do you hold yourself as powerful, whole and big in the world?
Ready to start living an amazingly authentic life?
Join my e-mail list for with tips on living your truest, most passionate you.
Comments: