What Do You Bring to the Table?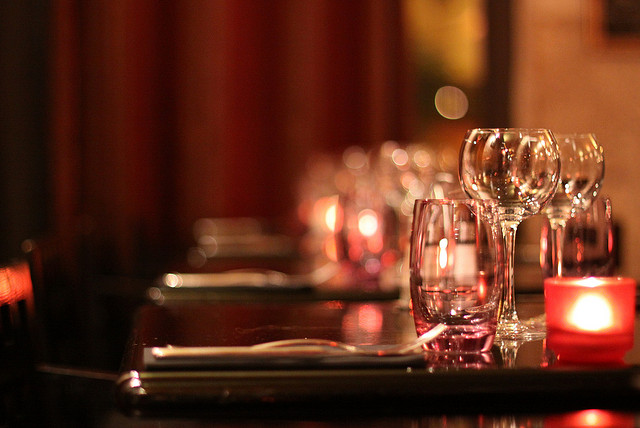 Photo credit: jenny downing
"The bond that links your true family is not one of blood, but of respect and joy in each other's life." – Richard Bach
I love gathering around the table for meals. Whether it is a special occasion such as Thanksgiving, a dinner party with good friends, Sunday night family suppers or lunch with a friend…. I love the idea of "lunching" and "dinnering" for the sake of sharing a meal and having great conversation.
My childhood was filled with southern family dinners made with food created from fresh, flavorful ingredients and lots of love. Coming together represented not only a time to get nourished, but also a way to get fed physically, emotionally, relationally and spiritually. Yet these celebrations were, and are, not without typical family dynamics and life transitions resulting from births, deaths, marriages, divorce, re-marriages or simply extending a seat at the table for those needing a place to go.
From year to year it seems the flow is constantly changing from the number of place settings and the names on the place cards to where we celebrate and the type of gathering, yet we continue to come together to commune. Sometimes when I am sitting at the table now, I look at my children, niece and nephew and think about the legacy being left for the next generation.  I hope that this tradition of connection and communing will be passed on to future generations.
Communing starts with eating, drinking, telling stories, and then moves to sharing a part of ourselves and learning more about each other. It goes beyond just lunch or dinner… communing requires a more intimate communication, conversing with depth and intensity, or having an interchange of profound thoughts, ideas and feelings. It is about bringing our values, our beliefs, our experiences and, most importantly, our authentic self to dinner and then discovering what others are also sharing.  The happy memories created serve to keep us bonded and connected, offering joy to everyone around the table.
As the holidays approach, often there is extra stress that is present when people come together to celebrate important rituals. Many times the experiences are rich with meaning, tradition and laughter, and a natural communing happens. But for some people, coming together around the table can also create anxiety, stress and downright dread. Whether you are the guest or the host, let your tasks be performed with total involvement and loving nourishment. Take it easy and let the mundane and seemingly simple tasks set the stage for bringing forth sacred connections, love, laughter, and joy to be experienced by everyone at the table.
Be intentional and thoughtful as you plan your gathering. Fully show up and be present, remembering to leave behind any unwanted dynamics or unnecessary stress. Consider what are you providing and contributing to those assembled for the festivities, and remember to include your best you with what you bring to dinner.
Things to bring with you…
Your authentic self
Manners (After all, I am Southern!)
Curiosity & active listening
Caring & compassionate heart
Favorite memories & best stories
Laughter
Respect & kindness
Honoring past & present elders
Old traditions & new rituals
Thoughtfulness & a helping hand
Open-mindedness as well as viewpoints
Your latest experiences
Boundaries, not barriers
Things to leave at home…
Technology (I-pods, cell phones, laptops and earphones)
Past issues & emotional baggage
Resentments & passive aggressiveness
Drama & unkind words
Unrealistic expectations
Controversial topics
Judgments & close-mindedness
Hijacking or dominating the conversation
Blame & hurt feelings
Envious eyes & jealous heart
Boredom
Your own agenda & self-indulgences
Of all the qualities you can bring, make it a priority to be present. Savor the food as well as company by fully engaging with love, gratitude and joyfulness; by bringing and sharing your unique you; and by fully engaging in the experience. As the Chinese mystic philosopher and founder of Taoism, Lao Tzu, said, " In dwelling, live close to the ground. In thinking, keep to the simple. In conflict, be fair and generous. In governing, don't try to control. In work, do what you enjoy. In family life, be completely present." As you gather around the table, arrive fully prepared to enjoy each and every moment with each and every person and decide how you want to show up.
Ready to start living an amazingly authentic life?
Join my e-mail list for with tips on living your truest, most passionate you.
Comments: